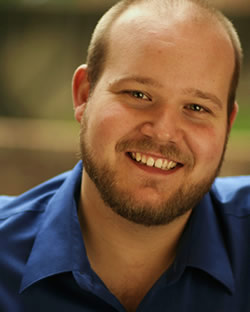 Doug James (Director/Choreographer) is thrilled to find his inner child by directing You're a Good Man, Charlie Brown. Doug has his MFA in Theatre Performance from the University of Louisville and his BA from UT-Knoxville. He is a company member of Cirque du Soleil based out of the Chicago Auditions. You may have seen Doug onstage in A Christmas Carol, Tartuffe, Romeo and Juliet, The Bacchae, or Inherit the Wind at the Clarence Brown Theatre or God of Carnage at Theatre Knoxville Downtown or maybe in Online Fighting with Tennessee Stage Company.  Doug has also been seen on such stages as Actors Theatre of Louisville, Riverstage, Music Theatre of Louisville, Centerstage, Playhouse on the Square, Bijou Theatre, and Idyllwild Arts.  Doug is currently the theatre teacher at Austin East Performing Arts Magnet High School and loves working with his kids.
What do you like about this show?
First off, I don't just like this show… I LOVE THIS SHOW!  What a great opportunity for actors, designers, directors, but especially the AUDIENCE!  To be able to work on channeling your inner child and finding that childlike innocence is a God-given blessing. Often as adults, we feel that we have so much on our plates that we cannot see the light at the end of the tunnel. We think that our burdens keep us from enjoying the beautiful things in life.  To think like a child and find the "happiness" in seeing the morning sun, to eat a hot dog with a friend, walking hand-in-hand, and two scoops of ice cream? How could we not love life and spread that joy to others?
Who do you think this show will appeal to?
Who doesn't this show appeal to is the better question?  Kids will love the antics of the characters and the slapstick humor it provides.  Adults will love to see those childhood characters come to life.  All people will love how for two hours they will be transported into a world of love, laughter, youth, innocence, faith, and did I say love?  There is a character with whom every single audience member will identify.  You may be sad and gloomy, seeing no hope like Charlie, an adventurer/cynic like Snoopy, a loudmouth know-it-all like Lucy, or maybe an intellectual like Linus.
Do you think you have a good cast?
This cast is perfect!  I couldn't ask for a better selection of people. They are so much fun to work with and really go for creating these crazy characters!  Their voices are all extremely strong, but most importantly, their acting will knock your socks off.  Our biggest problem right now is that we have a really hard time not laughing hysterically in the rehearsal room.  Which means…. audiences may need to wear Depends. Ha!  If that is our biggest problem, I think audiences will love to watch this show. On a separate note, I have the most amazing design team as well!
What is your favorite childhood memory?
Eating watermelon at my granny's with my cousins in the middle of the summer on her back deck.  We didn't need spoons or forks.  All we needed was a watermelon, our mouth, our laughing, and to be shirtless so we didn't ruin our clothes with the juice running down our mouth.  Our mothers would just laugh at us and squirt us with the water hose when we were done.  Then we would run down to the garden and just get muddy again.  Just think, my biggest worry was that watermelon seeds might grow a watermelon in my stomach. Didn't you love that commercial with the pregnant lady?  Ha!  I just remember loving those moments when time seemed to stand still and all I had to do was enjoy the people I was around and the amazing food I had in my hand. Ah!! To be a kid again!?!?!
What are you most excited about?
Seeing the faces of the children who come to see this show.  Then, looking over and seeing the faces of the parents when they see their children's smiles and love being exchanged.  I can't wait to see that watermelon moment happen for all of the families coming to see the show.  I'm also excited to see how much this show will change my life.  This is now my fourth show with The WordPlayers and my eighth show to be sitting in the audience.  Each experience has altered my life tremendously.  To find that inner child will affect me in how I see the world, and I'm thrilled to allow myself to become a better person because of this show, these actors, this design team, and, most importantly, my God.