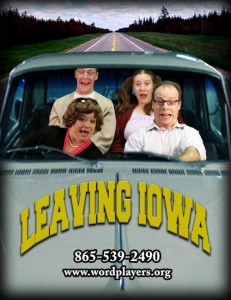 In honor of the hilarious play Leaving Iowa which opens Nov. 12 at The WordPlayers' Theatre at MCM, we are having a contest to see who can submit the best family vacation photo! The grand prize will be two free tickets to any showing of Leaving Iowa and two free ticket vouchers to any showing of Anne of Avonlea or Ragtime.  Here's how to enter and compete:
Upload your best family vacation photo to our Facebook page.
The photo with the most "likes" will be declared the winner. Any ties will result in a tiebreaker where The WordPlayers staff will judge between the top photos, if necessary.
The winner will be declared at 11:11 p.m. on 11-11-11, the night before the opening show.
But you need to enter and submit as soon as possible for several reasons! One, the contest will only last for two weeks. Two, the sooner you put your photo up, the more "likes" your photo will theoretically receive. And three, well, we might sweeten the deal (i.e., additional prizes) as the contest goes on!
You don't want to miss out on free tickets and maybe something more… Enter and submit!