A Time of Wonder
By Terry Weber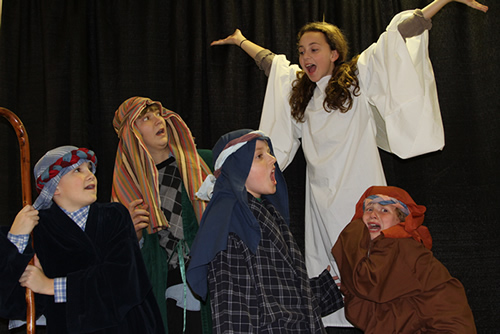 The other night, I was delighted to sit in on a rehearsal of our upcoming production of The Best Christmas Pageant Ever. At the risk of giving something away, there was a moment when the character of the Angel pointed straight at me and shouted, "Unto YOU a Child is born!!"
I was thrilled and intimidated at the same time.
What a thrilling thought that God sent his Son Jesus unto me. It's exciting and humbling to know that God not only loves us as a collective but also as individuals. He cared enough about me, and about you (and you and you and you) to send Jesus as the Way to salvation from sin. He sent Jesus as Emmanuel – "God with us" – the Word made flesh.
But because of the Angel's emphasis on the pronoun, "YOU," I was also intimidated.  The moment carried with it a kind of wake-up call, even an accusation.  I wondered if the Angel thought that I didn't already know that Jesus was born for me.  I wondered if the Angel thought I am living as if I didn't know it.  I wondered if the Angel felt strongly that I needed to be reminded of it so that I might be a better example to others.
I wondered. Yes, Christmas is a time of wonder…