A Sojourner's Jots, Part II
By Terry Weber
About seven and a half months ago, I posted a blog from Winona, MN entitled "A Sojourner's Jots." Today, I write from London, England. I am once again a sojourner, far away from home.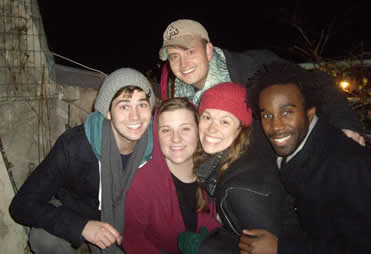 I am blessed to be here with my eight second-year graduate students from UT. They are studying with incredible teachers and we are all getting a taste of the wide variety of excellent theatre this great old city offers year-round.
If you appreciate excellent theatre, it's easy to fall in love with London.
If you are inspired by outstanding museums, most of which are free, it's easy to fall in love with London.
If you are a fan of English history, you can easily fall in love with the Tower of London, Westminster Abbey, St. Paul's Cathedral, and scores of other sites nearly 1000 years old.
And if you are a people-watcher and people-listener, there's no place quite like London.
I walk down the streets and see people of all kinds: a quintessential English businessman in a pin-striped suit, greying hair and mustache; a young Muslim woman wearing a hijab managing a baby in a stroller with one hand and a toddler holding onto the other; another young woman with a round, freckled face and hair so red that she must be from Ireland; an elderly Englishwoman slowly pushing a walker with a built-in basket for groceries; 20-somethings so attractive that they might have stepped out of a fashion magazine; a Hassidic Jewish couple with four stair-step children, with the oldest boy already sporting long sidecurls; people with piercings, tattoos, and indescribable colors in their hair; men and women with so much character in their faces that my imagination runs wild with the lives they might have led.
I've heard over a dozen languages spoken, half of which I can't even identify with any certainty. Also, I hear my language spoken in every kind of dialect and accent of English you can imagine. I had dinner with a woman last week who, in a normal conversation, said "gor blimey!" She really did.
All this rich diversity of people and culture leads me to think about God. For a sojourner like me, London is easy to love for the short time I am away from home. For God, too, London must have a special place in His heart, because so many different kinds of the people whom He loves have journeyed to this great old city from the ends of the earth. Some have been here all their lives and have never left. Some call it home. Some are sojourners, who, like me, are temporary occupants, on our way back home to loved ones elsewhere in the world. God loves each of us, as He loves all people everywhere, longing for all of us to come home to Him.