I spent over an hour this morning socializing, as the Managing Director of The WordPlayers, in my pajamas! Is that socially acceptable? Apparently, it is now! Perhaps, I should say I was being social in my pajamas. Is that any  better? Not really, huh? Of course, I'm talking about engaging in social media.  I was social without leaving my house!
Hmmm….
1so·cial  adjective \ˈsō-shəl\
: relating to or involving activities in which people spend  time talking to each other or doing enjoyable things with each other
I guess what we really need is a new definition of social or a new word for this kind of activity. I wasn't really talking to anyone except myself and my cats. I was posting and reading posts from others.
I'm sure we have all read at least one article on  the negative effect of this social media craze. I won't go into that; I prefer to focus on the positive. I think it's a great way to keep up with what's going  on in the community, the city, the world. And for a rather introverted person like me, it's a fun way to be social! Not to mention how comfortable I can be  in my pajamas with my coffee.  As long as I don't spend my whole day in my PJs in front of my computer, I think it's okay. Besides, theatre is a very social experience and I have a heavy diet of that!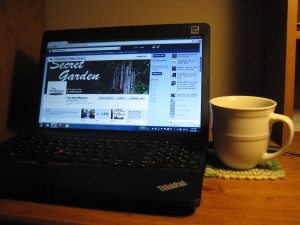 So come on, let's socialize! Like The WordPlayers on Facebook. Follow @wordplayers on Twitter. Check out our You Tube channel. And do whatever it is you do on Pinterest, with The WordPlayers! (still haven't quite figured that one out, yet)
PS  Pajamas optional 🙂
– Jeni Lamm