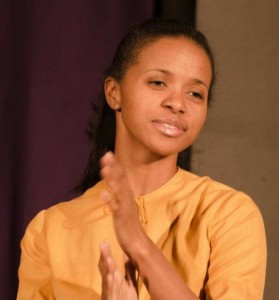 Just as Walk, Don't Ride reflects on the blessings brought to our culture through certain people and events in the American Civil Rights Movement, it's good to reflect on the blessings of the show itself. We played 20 performances in 15 different venues to over 3,200 people.
We received generous support from the Tennessee Arts Commission and numerous individual donors. Our small traveling company grew closer together in fellowship during rehearsals, performances, and long rides in the van.
Mostly, we connected with audiences. As Joe Jaynes, one of touring veterans, says,
"It's been a joy to bring an important bit of history to life for middle school and high school students around East Tennessee for the past six weeks. Too much of the story of the fight for civil rights remains unknown or under-appreciated. I'm proud to have been part of The WordPlayers' continuing efforts to educate and inspire through the Black History touring show."
Gayle Greene's reflects,
"Many great memories and blessings from being part of the "Walk Don't Ride" tour! Such a privilege to bring the message of freedom and hope to so many people! One of my favorite things was when we were able to have Q & A with the kids after a performance… Never knew what they were going to ask!"
God has directed The WordPlayers to use theatre to minister to many different people in many different venues with many different kinds of plays. None has been more rewarding than this year's version of Walk, Don't Ride.
Besides my gratitude to the Lord, I'm so grateful to Kelle, LaKeta, Gayle, Dominic, Joe, and Jeni, our intrepid band of touring artists. I'm so grateful to the administrators and teachers who booked the show. I'm so grateful to all of our supporters. And I'm so grateful to Dr. King, Mrs. Parks, and all the courageous participants in the Civil Rights Movement who brought greater justice to America.