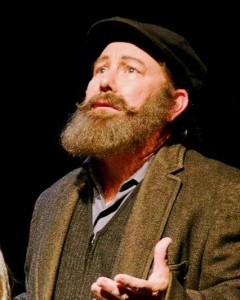 John Cherry will play Dr. Neville Craven in our upcoming production of The Secret Garden. Audiences may remember him from our production of Ragtime in 2012.
1. Please tell us a little about your background and experience in theatre.
Academically, I got my degree from UT in Theatre. Practically, I have been in more than 50 shows, more than half of those are musicals. I currently serve as the Artistic Director for the Primary Players Children's Theatre Group in Maryville. The aspect of theatre I enjoy most is researching and developing a character. I love the challenge of becoming someone else for a few weeks.
2. What do you like about this show?
The message of redemption is like being wrapped in a warm blanket. I also like working with the kids in the show.
3. Is there a moment in the play that makes you think, "That's just like God"? If so, what is it?
When the garden springs to life. It's like when an abandoned property is taken over by beautiful plants and becomes completely different.
4. Do you think we have a good cast?
I think we have an extraordinary cast. The Dreamers sound amazing as they rehearse their music. I can't wait to see it all lighted and costumed.
5. What are you most excited about?
I am excited to get back onto the Bijou stage. I haven't performed there since 1983 when I was in UT's production of Sweeny Todd. Sheryl Howard, who plays Martha in The Secret Garden, was also in that show with me.
6. Who do you think this show will appeal to?
Everyone. However, I think it appeals more to the fairer gender. I think it is an uplifting and empowering story for young girls.