So, ok, I have to admit The Alabaster Jar was not my favorite play to work on. Not because it is not a good play but because it is a rather serious play and I would rather laugh than cry.
However, I did enjoy performing it primarily because:
I enjoy each opportunity to act in a meaningful piece of theatre.
I was reminded of what a gift a loving family is.
I was part of showing God's wonderful mercy and forgiveness! (PTL, PTL)
Also, it was such a pleasure to go to different churches in the greater Knoxville area – some I had  visited before and some I hadn't. (It was certainly exciting to see if our set would fit in some of them!) But what fun to meet more of the family of God!  When I am warmly welcomed in, as we were at each church, I think about what a friendly and comfortable place Heaven is going to be!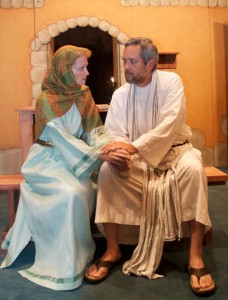 And each audience really seemed to appreciate the play and our performance of it! But you don't have to take my word for it; I gathered a few quotes!
"I very much enjoyed the drama!!! It was both very moving and the role players were excellent. I would encourage anyone to support and attend a performance in the future!!"
-Audience member, Forest Hill Baptist Church

"We were very impressed with the level of acting talent of the cast. The story was presented based on Biblical background and was made very believable to the audience. We enjoyed it very much and would like to see more from this group."
-Gary Thomas, Forest Hill Baptist Church

"Everyday I minister to women struggling with the shame of past decisions, wondering how they can ever be reconciled to God and their families. The Alabaster Jar demonstrated to them that there is freedom when grace and forgiveness meet at the feet of Christ."
-Eva Pierce, Executive Director, A Hand Up for Women
Amen! I personally may have more fun acting in comedies, but it is awesome enjoyment to know your work has had an impact on someone's life by making a spiritual truth more clear and real.
Below is another response to The Alabaster Jar by Joe Jaynes who played SIMON:
This was my first opportunity to perform a piece specifically drawn from Scripture. I found the experience to be very moving and uniquely fulfilling as an actor. The theme of understanding, acceptance, and forgiveness came home to me strongly during each performance. Simon the Pharisee was a well-meaning man, committed to living a life of faithfulness and obedience to the Law of God.

But he came to understand that the Law is not sufficient to heal wounded relationships and deal with the frailties and failings that afflict every one of us. He learned that the love and forgiveness that we can claim in Jesus can also heal the brokenness that we experience in our relationships with others, if we allow it to. That's always a lesson worth learning.