You may not be able to tell by the weather, but it is February and that means The WordPlayers is on the road with its Black History Touring Show. The title of the show is Walk, Don't Ride but we ride, of course, to places far and near in all kinds of weather.
The old van may have a cracked windshield (due to a loading mishap) and may be missing a couple of hubcaps but it "runs like a champ" according to Artistic Director, Terry Weber. Pictured here about to set out for Scott County in the rain.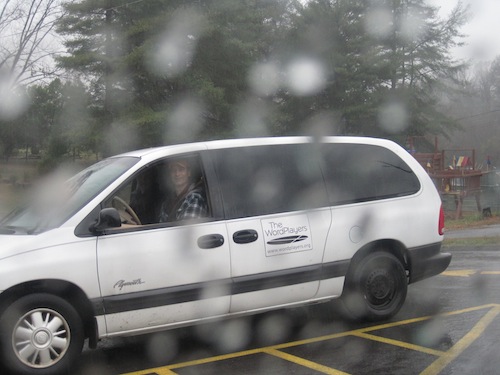 The cast, Terry and I are like one big happy family. We've been touring together now since mid January. Besides, we have Dominic Gillette to keep things light. Dominic and LaKeta Booker are enjoying this ride and the newly discovered Glee App.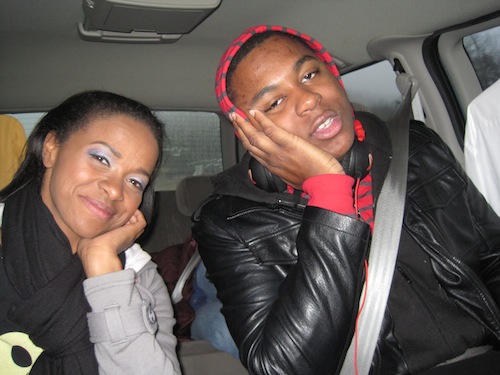 Fortunately, the rain stopped by the time we got to the Historic Courthouse in Huntsville, TN. Time to unload and make our set fit! We've got the unloading and loading routines down pretty well. In this picture, the wheelchair waits to be loaded up. "Never push a wheelchair empty!" Wise words from veteran touring actor and van packer extraordinaire, Joe Jaynes!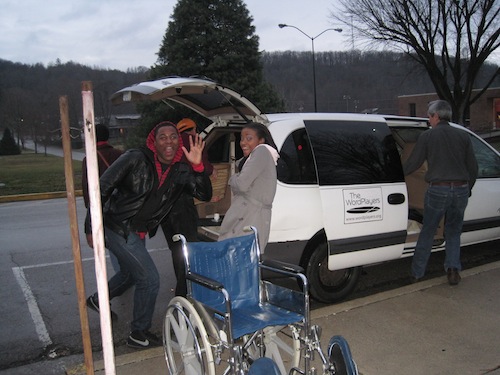 Each actor has his on stage role of course but this cast has kind of fallen into certain off stage roles as well. Joe supervises the loading. And he and Dominic are always on "flat duty" since those set pieces are quite heavy. Kelle Jolly leads the cast in vocal warm-ups. No need for pre-show music! The cast's sirens and "ma, may, mee, mo, moos" can be heard through most walls and are quite entertaining.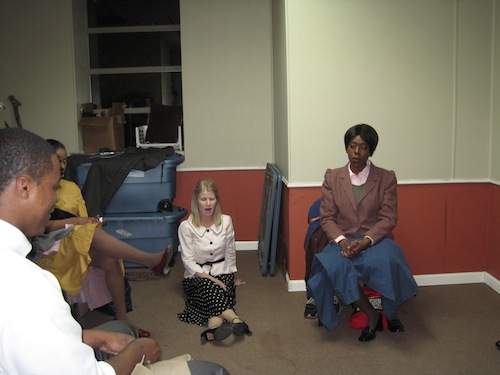 We enjoy seeing new places and meeting new people wherever we go! Our hosts in Scott County were quite nice. They helped carry things, they held a reception for us after the show and they invited us to tour the old jail! In retrospect, I probably could have done without that and been just fine. It was rather creepy and poor Gayle Greene and Dominic got put behind bars!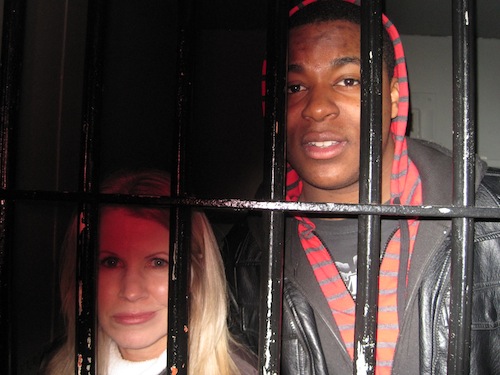 Happily, they were let go and we got back on the road which was a good thing because we were expected at a church in Knoxville the next day.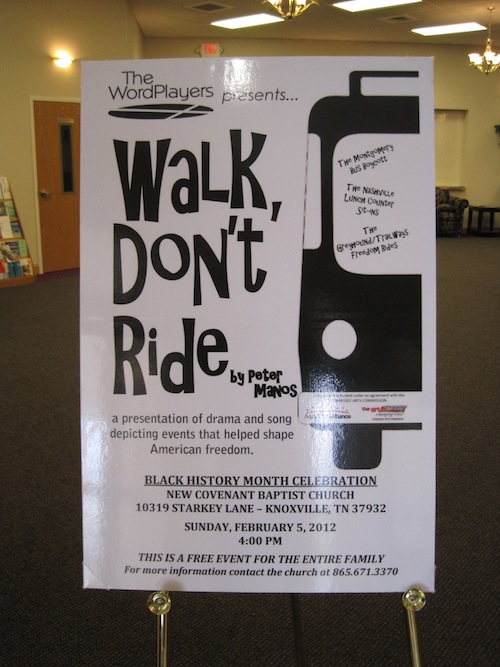 We are half way through our scheduled number of performances. The old van has many more miles to go before it sleeps! I'll have to say, touring theatre isn't the easiest way to make a living! But The WordPlayers enjoys it and comments like these below, referring to Walk, Don't Ride, make it all worthwhile.
"It was a high quality performance of great value to our students." – D. Chambers, Sevierville Middle School

"It did a nice job of presenting facts to students in such a way that they didn't even realize they were learning." – E. Young, Robertsville Middle School

"…I love when students can actually participate in history. See it, touch it, feel it, and live it through reenactment." C. Layton, Robertsville Middle School

"Each year, you do an excellent job. Keep it up!" – N. Jones, Robertsville Middle School