The Mmph
By Alysha Mitchell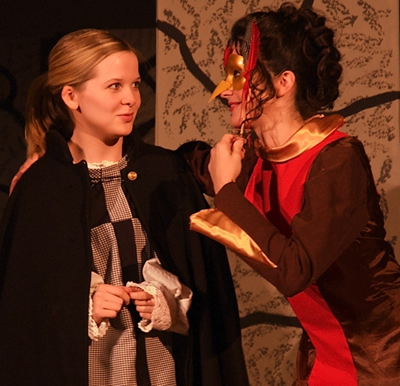 I don't know about everyone else, but I have, in my past, experienced those days when I just don't have "the mmph" to get going and do what needs to be done. At times I have also experienced an aimless wondering, where life seemed to have no known purpose or direction to go. That, friends, is a most terrible state to remain in for too long.
Unfortunately, when wondering aimlessly through day to day life, simply allowing life to happen, not only do we become unaware of how discontent it makes us, but we are also extremely unaware of the laziest roads it can lead us down. I have, recently, gone through one such period. And I'm fortunate enough that God put the The WordPlayers in my life to wake me up from that living comatose state. After what I thought would be "just another company meeting," my role in the company exploded to more than I had ever fathomed as our company reaches toward new heights and fresh goals.
I encourage you to honestly evaluate whether you currently face such a way of life, and then take comfort in this:
"Now I do all this because of the gospel, so I may become a partner in its benefits. Don't you know that the runners in a stadium all race, but only one receives the prize? Run in such a way to win the prize. Now everyone who competes exercises self-control in everything. However, they do it to receive a crown that will fade away, but we a crown that will never fade away. Therefore I do not run like one who runs aimlessly or box like one beating the air. Instead, I discipline my body and bring it under strict control, so that after preaching to others, I myself will not be disqualified." 1 Cor. 9:23-27
First and foremost, we run this race for the gospel–for Christ who so soon gave up the lifetime he could have had ahead of him for us, who many days would rather get that extra five minutes of sleep or even just lay in bed all day. Not that there's no rest for the weary, but what do we TRULY know of weariness? Second, do we really want the prize at the end of the race? Have we imagined what it would be to win THE PRIZE? Our prize is so much greater than we can fathom–an eternal relationship with a holy and good Father who loves us more than words can express. Know what crown you want, and get it.
How? Two words many of us don't like: self control. Self control is "the mmph". You see, we choose every minute of every day how we're going to run our race. And every choice affects our race–from what I chose to eat today to the innumerable nights I stayed up til 3 or 4 a.m. in college playing video games with friends, right down to the shape I choose to keep my body in. One of the greatest challenges of faith is to choose self-control 24/7. It's indescribably difficult. But I want to encourage you, if you ever find yourself wondering aimlessly with no sense of God's Will or long-term purpose, choose to keep running the race with self-control.
You will finish and not be disqualified.