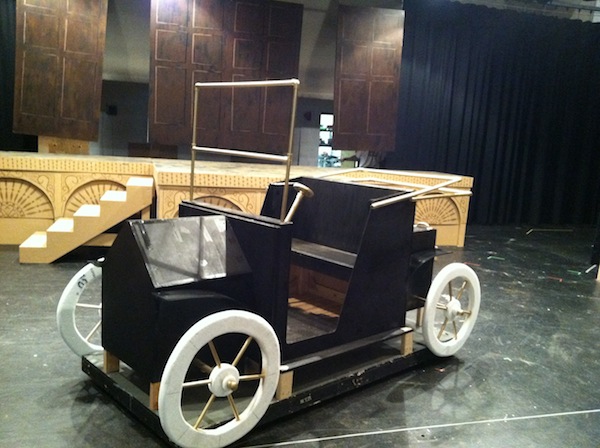 If The WordPlayers' production of Ragtime has any merit at all for those who experience it, all the credit goes to God, for it is truly a God-sized thing. This venture is, by far, the largest effort The WordPlayers has ever attempted, larger than anything we should reasonably even try to accomplish, given the size of our organization (small!). However, trusting in the Lord to provide the human and financial resources necessary to realize this magnificent musical, we have stepped out in faith.
There are over 40 actors, over a dozen musicians, over 15 members of the production/artistic team, and scores of volunteers helping in areas of costumes, sets, props, sound, lights, and publicity. God has amassed quite a community of theatre people! Hallelujah!
Among them is Jeff Delaney. Jeff is multi-talented. He is an actor, a writer, a director (of stage and film), and a scenic artist.
Ragtime calls for there to be a car on stage. In fact, the inciting incident which leads to the play's major conflict involves the car. And not just any car, but a pre-WWI Ford Model T. And it has to move on stage. It has to carry two adults. Oh, and there's very little money in the budget for it.
Enter Jeff Delaney. We asked him to build a Model T on a shoestring budget. See the progress in the photo below. We can't wait until it's completely finished. I love this guy. Thank you, Lord, for Jeff and the scores of other incredibly talented people you have blessed The WordPlayers withal!