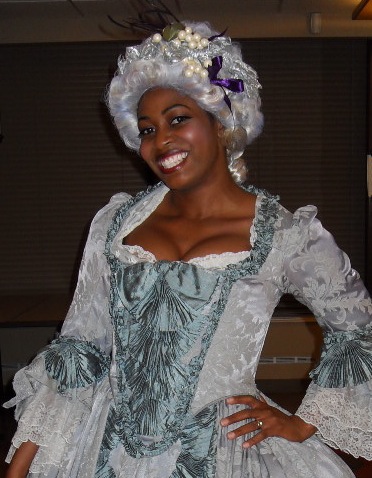 Michelle Clayton plays "Sarah" in Ragtime, and we've asked her a few questions about her own career in the theatre and the opera and about upcoming show.
Please tell us about your background in opera and theatre.
I entered into opera during my second year in undergrad at University of South Alabama. I just quit college cheerleading and I joined the college choir. The Mobile Opera was putting on Porgy and Bess and they needed people to be in the chorus. That was the first opera I was in and from there I was hooked. I took all the opera and vocal performance classes my last two years of undergrad and auditioned for the Knoxville Opera when I moved to TN.
How is Ragtime similar to an opera and how is it different?
I have never been a musical type person but Ragtime moves me. Like an opera, the stories are deep, the love is tragic and the soprano dies. (Laughter)… Opera all the way. Opera is more vocally demanding. In an opera, a half note is a half note and not what you decide in the moment and there are no microphones. You better sing that note in time over a 40-piece orchestra. In musical theatre, I found that there is more vocal freedom and a stronger focus on acting and the emotion shown through your body and face. This musical has given me more room to grow in a way I am unaccustomed to and I am blessed to be a part of it.
During the many weeks in which you've been preparing for the role of Sarah in Ragtime, what has been the most inspiring aspect?
I have to work on my acting. I focus so much on the sound that I separate emotion from my body. I have been blessed with a co-star that has taken the time to coach me and point me in the right direction. I am not the kind of artist who wants everyone to tell me I am great all the time. Tell me if the sound was ugly or if the move was awkward. I love the input because I can change and grow. My acting is not the best but seeing superior actors make me strive to be more like them and that is inspiring!! I have improved because of the experience of my fellow cast members.
It has been said that Ragtime is "more than a musical." Do you agree? If so, in what way is that statement true for you?
Ragtime speaks to every type of American. This really highlights the separate lives different groups of people may lead and the inaccurate perceptions they may have about each other. The characters in this show set the stage for the people today. Evelyn made Madonna possible and Coalhouse has GOT to be related to Malcolm X (Laughter). The stories are beautiful and moving.
Why should people come see Ragtime?
It is perfectly pointed and thought provoking.