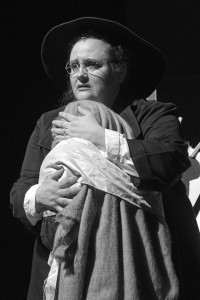 Sheryl Howard will play MARTHA in The Secret Garden. Sheryl is a triple threat…Actor, Singer, and … Musician! You thought I was going to say Dancer, didn't you? Well, she actually held her own in that department in You're a Good Man, Charlie Brown. She's amazingly talented. Sheryl played Emma Goldman in our production of Ragtime two years ago.
I got her opinion on a few things regarding our upcoming production of The Secret Garden:
1. What do you like about the show?
I think the score is exquisite – not only the lyrics and melodies but the lush orchestrations! I love, love, love the piccolo part. I can't wait to hear it live.
What an honor to play Martha! She is described in the script as a sturdy Yorkshire girl. I like that. I love Martha's strength and her grace for people. Mary's reluctance to open up in the beginning of the show doesn't faze Martha a bit. Martha seems to have a zest for life that is beyond her station. She is definitely someone I would like to be more like.
2. Is there a particular theme from the show that resonates with you?
Mary has these ghosts/dreamers that are surrounding her helping her transition from her life in India to her new life. They represent people in her past. Although I don't believe in ghosts (with the exception of the Holy Ghost … and maybe Casper) we do have events in our past and people in our past that influence who we are and lead us to the choices we make today. They can seem haunting but they can also be of utmost help to guiding us. I also like the theme of connectivity – that we are all connected somehow to the earth, to each other, and to God or "the Big Good Thing by whatever name you call it" as Martha says. I think that Martha and Dickon try to help Mary connect to her new surroundings.
3. What do I want people to take away from the show?
I would like people to walk away with an appreciation for those in their own family and want to rekindle new life in old relationships and maybe do some gardening on the side, teehee.