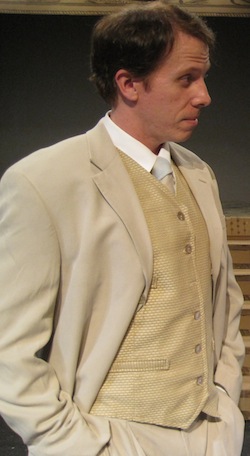 Please tell us a little about your theatre background?
I've had 20 years of professional experience as a performer. In musicals, I was lucky enough to do everything from chorus in high school to lead roles in off-Broadway productions. Along the way, I worked with numerous tony-award and Oscar-award winning actors, directors and producers. In opera, I performed everywhere from major stages across the globe with world-renowned stars to a run-down nursing home in rural Africa. But of all these, my favorite was singing for young children in Zimbabwe who had never heard opera — such delighted laughter!
So how do you think this production stacks up compared to others you've been in elsewhere?
This is an excellent production. A director once confided in me that "if you want a great production, cast great talent."  Leann Dickson and Jill Lagerberg certainly did just that. Leann, Jill and everyone involved in the production, has deftly woven a beautiful, heartfelt show that will leave you wanting more when the curtain falls.
Your character comes to a sort of crisis of faith, doesn't he? Tell us about that.
Father's world comes apart when Coalhouse's family becomes part of his family. He's frightened by the pace of change and confused as to how to make sense of it all. He struggles with how to best care for his family in the midst of it. The life he thought he was leading is slipping through his fingers and he does everything in his power to regain control. He's a loving man, in his own way, but has little idea how to express it, sometimes making things worse as he attempts to navigate the situation.
The show opens very soon! Do you recommend that people come see it? If so, why?
Yes! Come see Ragtime. The cast is excellent, the show entertaining and you will go home humming many of the tunes. You'll also have something meaningful to "chew on" afterwards, and maybe a new perspective from which to view your thoughts and your
actions.