2017 BLACK HISTORY TOURING SHOW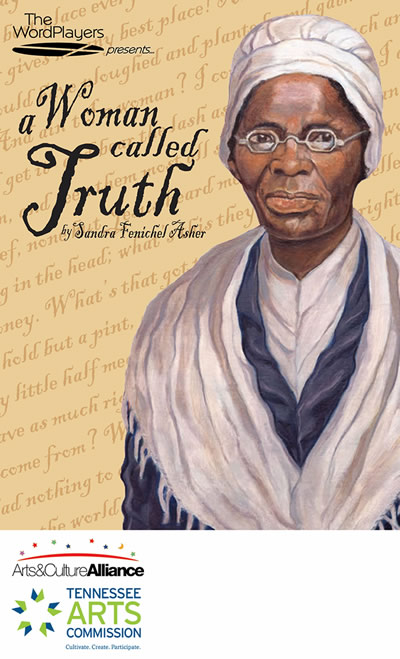 A Woman Called Truth by Sandra Fenichel Asher – A Play in One Act Celebrating the Life of Sojourner Truth
A Woman Called Truth is a story of the life and achievements of Sojourner Truth. The play begins at the 1851 women's rights convention in Akron, Ohio. We then go back in time to 1797 and travel with Sojourner as she remembers some of the extraordinary experiences that shaped her life. We get a glimpse of her highly cruel and unjust treatment as a slave. We experience how she bravely took her freedom and how she fought to free her son. At the end of the play, we learn how she became "Sojourner Truth" and get a taste of her dynamic spirit as an orator as she delivers her famous "Ain't I a Woman" speech.
A Woman Called Truth is an important story about a significant woman in our country's history.
Available to tour to schools and other venues
February 1 – March 3, 2017
FEE: $600 LENGTH: 55 minutes
2nd show (same day, same venue) $500
To schedule a performance at your venue, please call 865-539-2490 or email wordplayers@comcast.net
STUDENT TICKET SUBSIDY
The WordPlayers is an approved Teaching Artist Organization with the Tennessee Arts Commission. Student Ticket Subsidy may be obtained for this presentation. Information regarding Student Ticket Subsidy can be found here: http://tnartseducation.org/grants/sts-grant/
For more information, please contact The WordPlayers: 865-539-2490
EDUCATIONAL GOALS:
Allow students to experience a play performed live.
Enlighten students regarding the life of Sojourner Truth.
Cause students to think about the ramifications of prejudice and discrimination.
Inspire students to make a positive impact towards equality for all people.
Study Guide provided
SCHEDULED PERFORMANCES
* January 31, Open Dress Rehearsal, Erin Presbyterian, 7:00 PM
* Feb. 3, Fountain City UMC, 7:00 pm
Feb. 7, Sevierville Middle
* Feb. 9, Emerald Charter School, 5:30 pm
* Feb. 12, Bessie Smith Hall – Chattanooga, 3:00 pm
* Feb. 13, Walters State – Greeneville, 9:45 am
* Feb. 13, Walters State – Claiborne, 3:30 pm
Feb. 14, Robertsville Middle – Oak Ridge
* Feb. 15, Walters State – Morristown, 12:20 pm
Feb. 17, Paideia Academy
Feb. 22, South Doyle Middle
* Feb. 23, Walters State – Sevierville, 6:15 pm
Feb. 24, Central Middle School – Wartburg
* Feb. 25, Oak Valley Baptist – Oak Ridge, 4:00 pm
* Feb. 26, Fifth Avenue Baptist, 4:00 pm
Feb. 27, Farragut Middle School
* OPEN TO THE PUBLIC (Free Admission)
This project is supported by the TENNESSEE ARTS COMMISSION through an Arts Builds Communities grant.