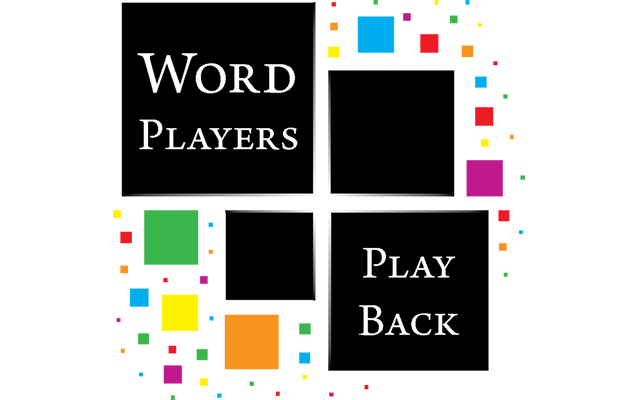 The WordPlayers' Playback Theatre Troupe
Creating Community, one story at a time
Playback is a form of improvisational theatre where real life stories are brought to life on the spot using dialogue, movement, and music. An audience member shares an experience from his or her life and we play it back, capturing the heart or essence of the experience. The stories may be humorous or serious: memories from long ago, last week, or just this morning!
Playback Theatre is powerful and creative, allowing diverse voices to be heard and respected. It builds connections between people by honoring the dignity, drama, and universality of their stories. The method is extremely flexible and can be adapted to the needs of many kinds of groups and organizations: private sector organizations, nonprofit organizations, retirement centers, support groups, marginalized people groups of all kinds, as well as purely for entertainment at events.
The WordPlayers has been training in this theatre form and now offers it to the Knoxville community. Our troupe is an ensemble of professional performers with backgrounds in theatre, music, and education. Through Playback Theatre, we seek to honor the countless moments and events that shape our lives.
Tell us YOUR story and let us co-create a theatre event with you!
If you would like more information or are interested in scheduling Playback for your organization, please contact us!
Upcoming Playback Events
Open Playback Practices – January 13 & 27, 10:30 AM – 12:30 PM at Erin Presbyterian
Open to anyone interested in Playback Theatre! Please call 865-539-2490 for more information.