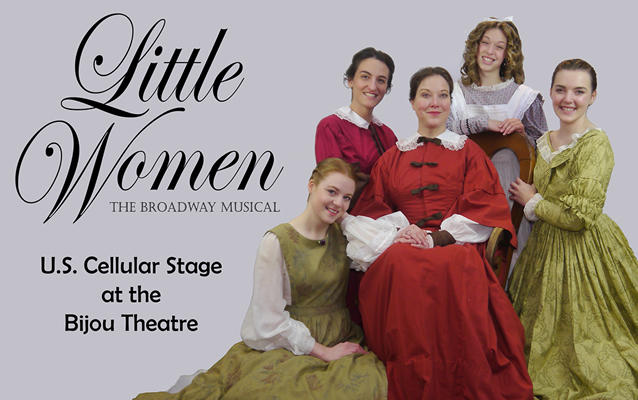 Music by Jason Howland, Lyrics by Mindi Dickstein, Book by Allan Knee
Based on the novel by Louisa May Alcott
Presented by The WordPlayers on the U.S. Cellular Stage at the Bijou Theatre, 803 S. Gay St.
This timeless captivating story is brought to life in this glorious musical filled with personal discovery, heartache, hope, and everlasting love.
Friday, July 14 @ 7:30 p.m.
Saturday, July 15 @ 2:30 & 7:30 p.m.
Sunday, July 16 @ 3:00 p.m.
Seats in a Special RESERVED Section are available for purchase NOW through May 15 via our Crowdfunding Campaign, Big Show: Little Women. Please help us raise the funds to produce this magnificent show in the historic Bijou Theatre!
Click HERE to get your reserved seats now!
OR if you prefer to donate "offline," please download this form and mail it with your check to:
The WordPlayers
P.O. Box 53717
Knoxville, TN 37950-3717
General Admission Tickets (On sale beginning May 16):
Adults: $22.50
Seniors (65+) & Students: $18.50
Children (12 and under): $12.50
CAST & PRODUCTION TEAM
JO – Casey Maxwell
MARMEE – Deanna Surber
BETH – Gracie Belt
MEG – Christina Ledbetter
AMY – Tori Beth Sullivan
LAURIE – Noah Skurtu
PROFESSOR BHAER – Jimmy Sherrod
JOHN BROOKE – Evan Price
AUNT MARCH – Jill Bergeron
MR. LAURENCE/KNIGHT – Joe Jaynes
MRS. KIRK – Jessica Cross
CLARISSA – Brookie Smothers
RODRIGO – Naomi Lloyd
BRAXTON – Pedro Lima
HAG – Bekah McNair
TROLL – Natasha Lloyd
Director – Terri Lloyd
Music Director – Braxton Kiser
Stage Manager – Matthew Lloyd
Producer – Terry Weber
WordPlayers Managing Director – Jeni Lamm
We are grateful to our sponsors!
(Please click on their logos to visit their web sites.)
Producer

Presenters
The LAMP Foundation

Pacesetter

Business Associate