You Know What's Coming
by Alysha Mitchell
After my husband and I first got engaged, we took a trip to Florida around my birthday so I could meet his best friend from college, "D", who was to be the Best Man in our wedding. Being as excited as I was, I figured D's wife would want to see my engagement ring and hear the story and all that super awesome girly stuff we women love to talk about when good news abounds. So I took the ring. (Sigh. You know what's coming.)
I met them, we stayed with them, and we talked about life and the wedding, as is to be expected. And of course, as is to be expected, we went to the beach. It's Florida. Why not? (You know what's coming.)
It was our last day there, the day before my 25th birthday.
When we got to the beach, I did the good little pale girl thing and put on tanning lotion and spray sunblock, which, it turns out, makes your skin feel EXCESSIVELY greasy. (You know what's coming.)
Of course, I got out there and discovered just how slippery my skin felt and how easy it would be for my new un-sized, UNINSURED ring to just fall right off. So I decided the best thing to do (you KNOW what's coming) is to take the ring off of my finger and attach it and secure it to my bathing suit. It was the perfect plan. Unfortunately, it didn't account for the wave that slapped me in the back at the exact moment I was about to do the actual securing to said bathing suit.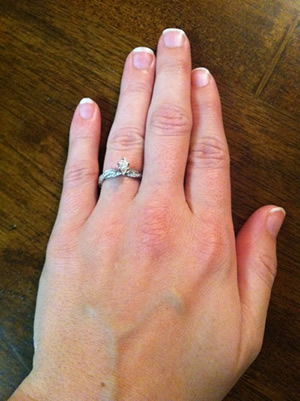 I have never in my life felt so sick so quick. The wave knocked it out of my hand and into the ocean. Of course, Russ didn't realize at first what had happened. I was stunned.
I had begged God for YEARS for this man.  Russ had worked so hard for that ring in order to show me how much he loved me. And now, I watched my ring fade away into the waves. My breath escaped me. Of course, Russ, when he realized what happened, said, "Honey, don't cry." WHAT!? That's the one thing that could comfort a girl in that situation–the ability to cry!
But my first, immediate, and only thought was, "Oh, God, only You can bring this back." After searching for a few moments, I looked around to see if a metal detector guy was around. Nope. God, only You can bring this back. Anyone with goggles? Nope. God, only You can bring this back. We searched by ourselves for about 30 minutes. Then we looked over and saw a family with goggles. We went to them and begged to borrow the goggles for our search. They helped us, to no avail. Losing time with the tides, we put our search on hold, sent the family back to their vacation and thanked them for their help. We went back up to sit on the beach with our stuff. All the while, though, I just couldn't let go of this sense that THAT ring was coming back. God, only You can bring this back.
We talked for an hour or so and tried playing one of those beach velcropad tennisball games to take our minds from it. All the while, Russ was thinking about how to replace the ring; I was thinking how terrible a person I was to wrecklessly risk losing the symbol of my fiancé's love. God, only You can bring this back. Then, out of nowhere, I noticed a guy in the area with a metal detector. I ran off to him like a dog to the dinner bell. He helped us look for another hour, to no avail. He exchanged contact information with us and told us he would call if he found it. God, only You can bring this back.
Just as we were about to leave the beach for dinner, ANOTHER metal detector guy appeared WAY away from where we had lost the ring. Russ had no clue where I was running, but I took off after him, knowing this was the guy God SENT to bring back the ring. He helped us search for a bit, promised he would continue, and told us he would let us know if he found it. Accepting the situation as it was, we walked up the beach to go find dinner. Dinner was silent for the most part, usually broken by Russ trying to comfort me or one of us simply in disbelief that I lost the ring trying to protect it. Straight through dinner, he was already trying to figure out how much overtime he could get to replace the lost ring. That was incredibly hard for me to bear. Not only did he value me enough to make me his wife, he valued me enough to make me his wife twice. The love was amazing, and I was so unworthy. But even though I couldn't believe how badly he wanted me to have that token of his love, I still couldn't let go of the fact that THAT ring was coming back to me. I knew it. God, only You can bring this back. We walked back to the car making small talk, and in the process of the long walk, turning a corner, I saw it.
The weather had been perfect all day. The skies were perfectly blue and clear that day. Zero clouds. Perfectly clear and blue. Except for this random rainbow. It reminded me of God's promise. Not just the promise never to flood the entire earth again, but the promise of His love, how He cares for our every need and desire. He had brought the real gem into my life. I didn't need to worry about whether the rock was coming back or not because I still had Russ. And at that moment, I felt the greatest peace I've ever known. The torment of my worry washed away in the tides that held captive my ring. Blessed assurance took on a whole new meaning, and I knew, for the first time ever, what it was to have faith–in something, in someone. To just have true, honest, unrelenting, undoubting faith. I found my mustard seed. God, only You can bring this back.
You know what's coming. We got to the car. We started the drive home. The day ended like any other day. You know what's coming.
The sun rose. We woke. Just like any other day. You know what's coming.
We ate. We saw each other. Just like any other day. You know what's coming.
At about 5:30 p.m. on my 25th birthday, the second of the two Godsends with the metal detectors called. You know what's coming.
They had found it! He agreed to meet "D" on the beach to give it to him. But you didn't see this coming.
He didn't ask for any money for finding it (although, yes, we did send him a "thank you"). And our friends found out that night, just before they left to pick up our engagement ring, that they were pregnant with their second child! A great celebratory dinner on the beach was in order!
When God works (and He's working ALL the time), every detail is set perfectly in place. From the moments that feel as if they rip out our insides to the Godsend metal detector guys to the random rainbows, it's all part of how He moves us and our hearts closer to Him and His. No one will ever convince me that entire thing was chance. Why? Because from the moment I met Russ straight through to my ring being lost at the bottom of the ocean to even now, I see how God designs our path to Him. May you find your way to God and know beyond a shadow of a doubt that He cares enough for you not to pay for you with money, but to pay for you with blood, sweat, tears, whatever it takes for you to know how much He loves you.