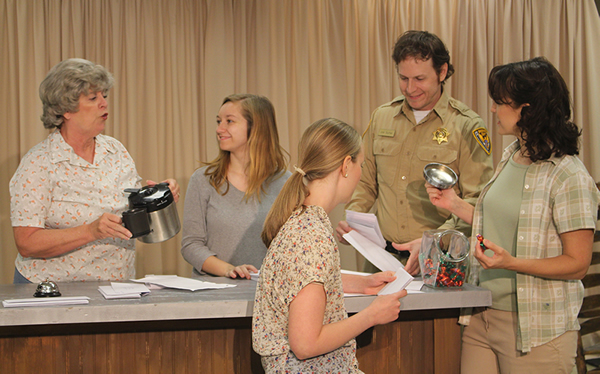 What do you like most about this production?
"I love the vision our director has for the show. Matthew Lloyd is pulling every nuance out of us, making our performances multi-faceted and strong. Even the smaller roles, like mine, which could be played cartoon-like and comic-relief, have found depth and growth."
– Elizabeth Eaker, Actor playing Effy
"I am really enjoying watching the growth of the various cast members during the rehearsal process. July 10th will be a glorious culmination of a lot of hard, emotional work."
– John Cherry, Actor playing Caleb
"I like working with the small cast and being able to work closely with all the team members and build relationships through that closeness."
– Lexie McCarty, Properties Master
What do you think audiences will get out of it?
"Audiences should come to be entertained, to be reminded that there is hope and healing if we'll reach out for it, and to be assured that a story of hurt doesn't have to end there. We can choose to connect with one another, and to forgive, and The Spitfire Grill tells that story beautifully."
– Elizabeth
"I think audiences will experience a connection with each character that changes the way they see themselves and the relationships they have with their community."
– Christy Watson, Actor playing Shelby
"I trust audiences will come away with a sense of hope – that whatever circumstances they are in, renewal is possible."
– Matthew Lloyd – Director
For dates and ticket info, please click here.