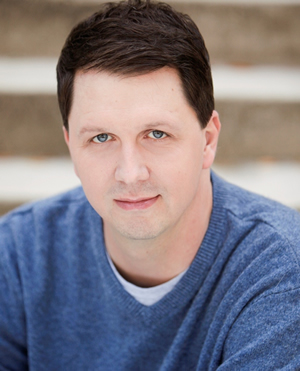 Matthew Lloyd (Linus) is a long-time WordPlayers' veteran and a company member. Favorite roles include Jesus in Godspell and the full cast of Cotton Patch Gospel. He has also narrated and produced two audiobooks: The Silence of Lir and Breakaway: Clan of the Ice Mountains. This fall he will be directing Doubt for The WordPlayers. Thanks, as always, to God for his many blessings and provision, to his children for the love and support, and to the most understanding and loving wife there ever was, Terri.
You have done a bunch of shows with The WordPlayers. How many will this make?
This is the 19th show that I have been in the cast with The WordPlayers. If you add in shows that I directed, stage managed, or did set design, the total comes to 32.
Is there anything special about the process of putting this one together?
It's always interesting to do a show that you've done before. I was in this show in high school as Schroeder, so it's fun to see it through a different character, and to see how it's different in terms of production values.
What do you like about this show?
I like how much we're taking inspiration from the comic strips. I also appreciate the directing team and cast not wanting to compromise quality. This is going to be a great production, because no one is willing to allow it to be anything less.
Who do you think this show will appeal to?
I honestly believe this show would appeal to anyone. I've encouraged people to bring their kids as young as 4, and I'm pretty sure my 96-year-old grandmother is going to try to make it, and I think she'll enjoy it just as much.