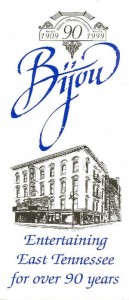 I am so excited about The WordPlayers' production of The Secret Garden in July. We are performing it on the U.S. Cellular Stage at The Bijou! That's right, THE BIJOU! Do you know the history of that place?!
I sort of have a goal to perform on every stage in Knoxville. I am not in The Secret Garden but that's okay because I have already performed on The Bijou stage. To stand on that stage, where the likes of Dorothy Gish, Ethel Barrymore, John Cullum and other greats have stood before, was thrilling.
It's a fabulous venue for theatre, i.e. plays and musicals. And yet, there hasn't been any theatre in there in quite some time. We are thrilled to be bringing it back! I do want say how grateful I am to those who saved the theater and those who keep it running with awesome music events. And thank you for letting The WordPlayers use it!
We have a fantastic team of artists working on this production, many of whom "pulled off" Ragtime two years ago. As a relatively small theatre company, this is one of those productions you live for. We feel like the little engine that could! You must come be a part of this. It's exciting!